Phil Collins retirement: Health issues that led to him leaving the stage
After a long and historic career, Phil Collins announced his final-ever live show in an emotional farewell while on stage in London with his band Genesis on March 26.
The 71-year-old music icon recently revealed he can no longer hold a drumstick after surgery on his back, and now is retiring from live performances due to his ill health. Genesis reunited this year for their first live concert since 2007, but Collins has recently been performing mostly while sitting down.
So what happened to Phil Collins that things got this bad?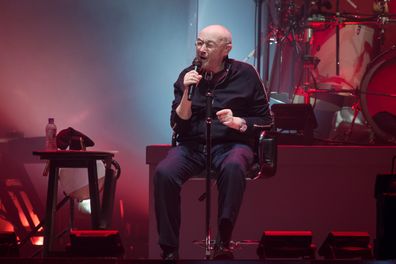 The last 10 years have been tough for Phil Collins
In 2007, the English superstar injured a vertebrae at the top of his neck, which has caused problems ever since. He actually got the injury while on stage playing drums and it led to crippling nerve damage in his hands.
Though Collins underwent surgery in 2009 in an effort to repair the vertebrae, he ultimately lost feeling in his fingertips.
READ MORE: Phil Collins can 'barely hold' a drumstick due to health issues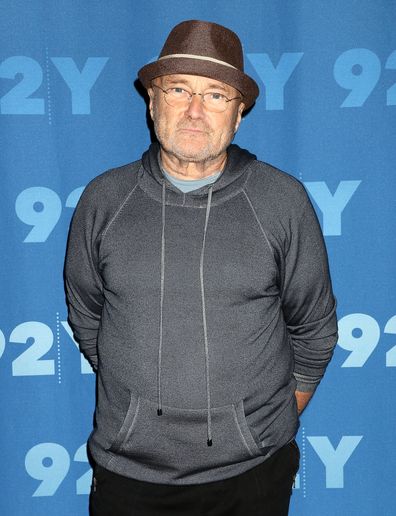 Once hailed as one of the world's best musicians, suddenly Collins could only hold drumsticks if they were taped to his hands.
Collins was optimistic that he could work through the injury. In a message posted to Genesis' website, he wrote: "Maybe in a year or so it will change, but for now it is impossible for me to play drums or piano."
READ MORE: Phil Collins wants ex-wife Orianne Cevey evicted from their home as couple split for second time
In 2008, his wife Orianne Cevey divorced him for the first time and left with their two sons. Collins went through a few years of depression and mental health struggles, where he depended on alcohol to cope, he told Rolling Stone.
"It left me with a lot of time on my hands to think about what happened," he said. "I went through a few bits of darkness; drinking too much. I killed my hours watching TV and drinking, and it almost killed me."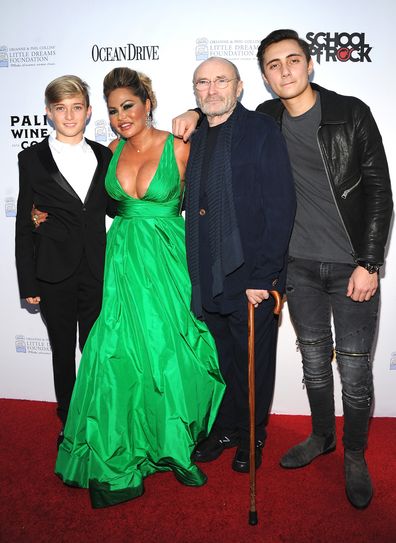 He also told The Mirror that he was "drinking vodka from the fridge in the morning and falling over in front of the kids".
In 2012, it all came to a head, when the star was rushed to a Swiss hospital with acute pancreatitis. "My organs were kind of f—ed," he told The Mirror. "It was spirits, corrosive stuff."
Near-death experience still not a wake-up call
Not even a near-death experience and a stint in rehab were enough to help Collins kick his drinking habit.
The following year, when doctors told the rock legend that his internal organs were showing signs of permanent serious damage, Collins finally quit drinking alcohol. He was sober for three years, but now occasionally indulges.
"I didn't drink for all that time but now I am quite capable of having two or three glasses of wine, saying goodnight and walking away," he told The Mirror.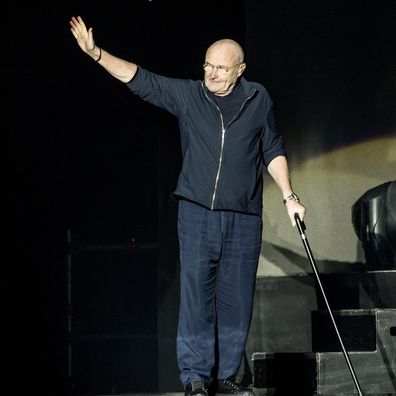 Unfortunately, despite Collins' optimism that his nerve damage would go away, by 2014 he still could not use his left hand.
According to The Guardian, doctors told him the only way to play drums again would be to relearn from the beginning, using a different technique to hold his drumsticks.
Things went downhill from there
In 2017, Collins revealed that he was a type 2 diabetic. After developing a diabetic abscess on his foot that became infected, he needed to be treated with a hyperbaric chamber.
Collins also has a drop foot, which he developed after his back surgery. This means that he can't always lift the front of his right foot properly, which makes it difficult to walk. In June 2017, while touring in the UK, he was rushed to hospital after slipping in his hotel room and whacking his head on a chair.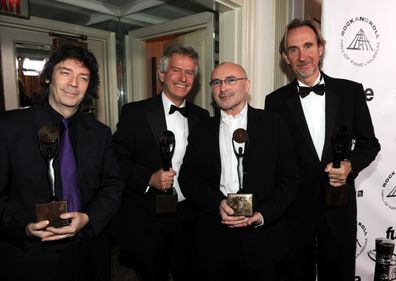 "He was taken to hospital where he had stitches for a severe gash on his head close to his eye and is recovering well. He will be kept under observation for 24 hours," read a statement on his Facebook page. Collins cancelled two shows in London as a result of the incident.
He now wears orthopedic shoes for his drop foot and walks with a cane.
In 2018, during his farewell tour as a solo artist, he began performing on stage while sitting in a chair. One reviewer reported that in a 2018 show his voice was "weak" and that "he seems feeble".
So, this is the end of live music for Phil Collins
Even before his on-stage farewell with Genesis on March 26, Collins has previously stated that this tour will be his last –– whether with the band or solo.
He told the crowd at his final show: "It's the last stop of our tour, and it's the last show for Genesis. After tonight we all have to get real jobs."
This show was actually meant to take place in 2020 but was postponed due to the pandemic. The Last Domino? Tour came after a 14-year hiatus for the band –– despite Collins touring solo up until October 2019.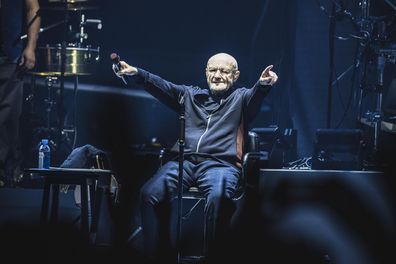 While he remained seated for the entirety of Genesis' last show at the O2 arena in London, he later managed to stand up — supported by his bandmates — at the end of their set to thank the audience.
One fan posted to Twitter after the show: "It was amazing but also so poignant. Phil Collins was visibly frail, his voice not as powerful as it once was but was still 'there' under it all. He sang his heart out."
Though Collins' touring career may have ended, his legacy lives on through his iconic music –– hits like 'Easy Lover', 'In The Air Tonight', 'Against All Odds' and 'Another Day In Paradise' will remain beloved tracks for a long time to come.
For a daily dose of 9Honey, subscribe to our newsletter here.